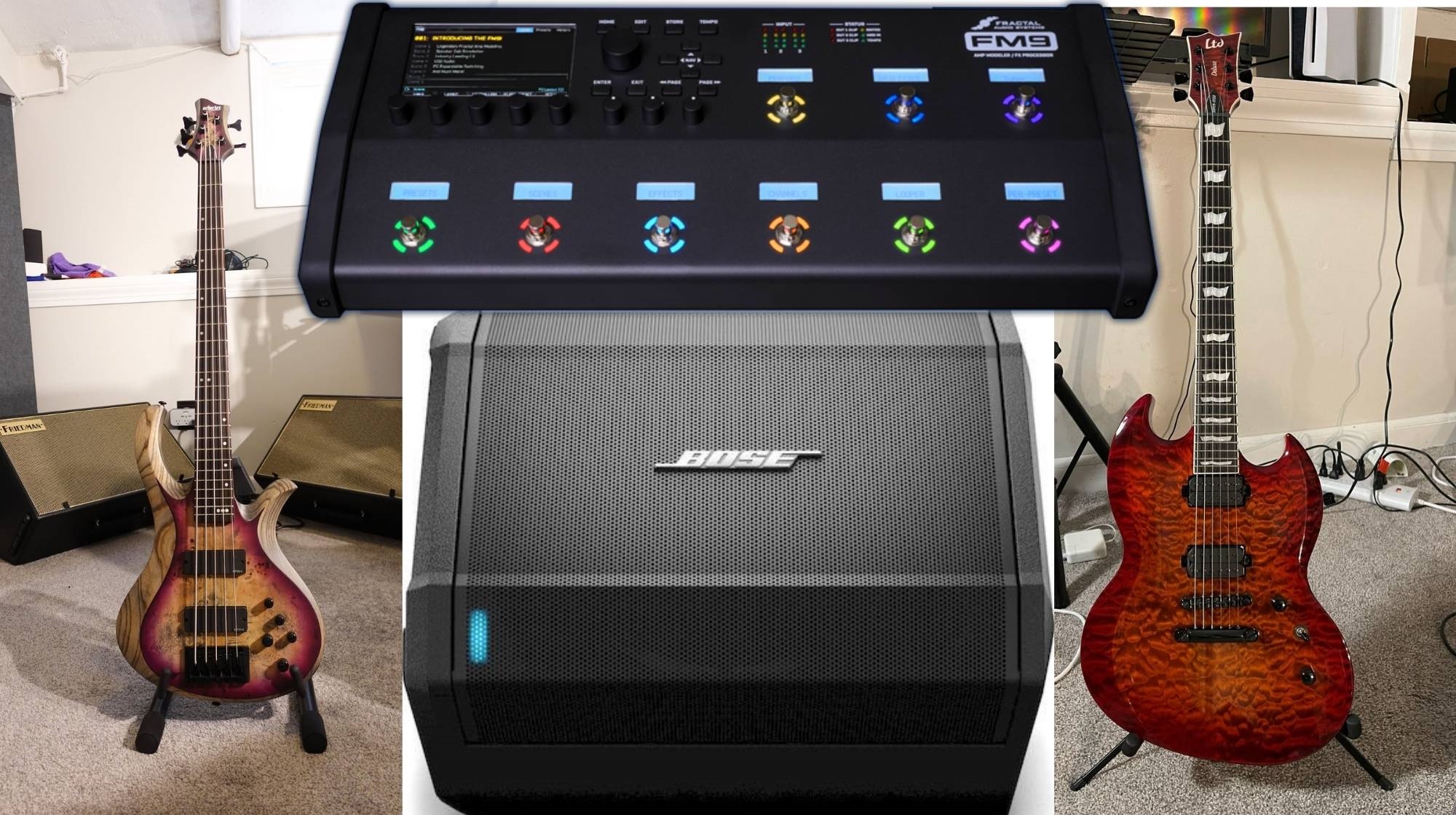 As you all know, I try to cover gear-related topics on this site too. I play guitars myself and, in the last few years, I've gotten into home recording as well. One tradition I've started a while back, and am continuing with this post, is an annual summary of the gear I've purchased. It allows me to share my feedback with you all, but I can also look back and analyze how much each purchase was utilized. These things are helpful to make more informed decisions.
All in all, I think I resisted impulse purchases much better than I had in any previous year. I became a little more focused on my musical goals and thought more about what I wanted to do with my music and guitar playing.
That said, let's talk gear!
Schecter Riot 5:
This year, I finished my first song with vocals on it. The music and lyrics were all mine, but I didn't sing. I hired an excellent pro to do it. You can find the song here. Along with having vocals, this song also was the first time I ever played bass! I'd always programmed them before. That's what I was going to do on this one too, but my guitar teacher, who is more of a musical coach to me these days, suggested I try playing the bass myself. I was saving up for another guitar but changed my mind and decided to get a bass instead. I figured it was worth a shot!
I picked this bass because it just looked stunning, and the demos I checked out on YouTube checked all the boxes in terms of tonal versatility. Seriously, you can play whatever you want with it! I went with the 5-string version because I don't plan on accumulating too many basses. So, I needed to have that extra string if I composed songs that required it in the future.
I did a video playing Megadeth's Dawn Patrol. If you want to check that out, you can find it here.
I must be honest; I don't consider myself a bassist. I'm a guitar player trying to play the bass on his songs. Maybe I'll play some covers here and there, but I bought the Schecter Riot primarily for my songs. I still play with a pick. It helps the bass cut through in the mix a bit better when I play metal. But I want to learn how to play with the fingers too. The pick doesn't sound right if you're playing something less heavy. I already tried it, but it's not as easy as some professionals make it look!
Finally, I'll say this. It is a massive boost in creativity and inspiration when you pick up a new instrument. If you are a guitarist and you've been on the fence about playing bass, I'd highly recommend it!
LTD Deluxe Viper 1000:
I've always loved ESP's interpretation of the iconic SG shape. The asymmetry makes it look much cooler. I wasn't planning to buy a new guitar around the time I got this, but I saw a used one on Guitar Center, and the price was too compelling to pass. The guitar seemed to be in great shape. So, I went for it.
I had it professionally set up when it arrived, and it's now also tuned down to D Standard. It's my only guitar with that tuning for now. The body shape is really comfortable. It sits nicely on your lap when you play sitting down. I haven't played it standing up yet. The scale length is a little smaller than I'm used to. I believe this one is 24.75 inches. Most guitars I have are around 25.5 or so. So, it was a bit of an adjustment for me in that sense. But once I got used to it and accepted it as a different instrument, I really started to enjoy it. I'm keeping it as my D Standard guitar for now.
The pickups sound good. The Seymour Duncan Pegasus in the bridge, in particular, works excellent in high gain tones. I've got to explore some more sounds to really gauge how much I like them, though.
This was a risky buy as I had never tried one before purchasing, but so far, I like it!
Bose S1 Pro
Since I have a few amp modelers, I've also tried a few FRFR speakers. I'm a huge fan of Atomic CLRs and the Friedman ASM series. I have both and use them frequently. But their size is rather large (especially the Friedman is quite heavy!) so I also bought a smaller HeadRush 108. It's much more compact and comes at a much cheaper price. It, naturally, doesn't sound as good as some of the others I mentioned, but you can't really expect that from this price point anyway. I think it does what it does rather well. But all this experience with a smaller FRFR made me want to try another one.
This time, I went with a Bose S1 Pro. The benefit of this unit is that it can serve multiple purposes. Yes, it can absolutely perform as a speaker for your modeler. I don't know if you can technically call this an FRFR; but regardless of what you can call it, I can tell you that it'll work quite well with whatever modeler you've got. It sounds quite good too!
But the biggest benefit you get with this unit is that it can be used without a power supply. It's got it own internal battery. I love that I can just take it anywhere and as long as I have a place to plug in my modeler, I'm good to go. I don't need to worry about the S1 Pro. Another benefit is that because it's a Bluetooth speaker, I can easily play a track on my phone and play along to it on my guitar. You have separate volume controls, so you can easily control how loud you want your guitars to be alongside the track you're playing.
Fractal Audio FM9
I've been using my Axe-Fx 3 for a while now. I can't say I've discovered everything but I'm getting more and more acquainted with the Fractal user interface, and I've been exploring all the amazing flexibility their units offer. So, I thought the FM9 would be a great addition because it's a floorboard model that is far more portable, but the learning curve wouldn't be too bad because I'm already somewhat used to the Fractal way of doing things.
The processing power of the FM9 is not the same as the other Fractal units. You can find a lot of detail on this topic if you just search for it online, but briefly put, it has less power than that of the Axe-FX 3 and more than the FM3.
Overall, the FM9 is a phenomenal amp modeler. I love my FM3 as well and I've gained a lot of flexibility with an FC-6 paired with it. And if you want a smaller unit and you are okay not carrying around the FC6, then the FM3 will still be a great addition to your equipment. While the FM9 is, of course, bigger than the FM3, I think the benefits are too good to ignore. You get more footswitches than the FM3 and you don't even need an FC unit. You also get a more powerful unit as the FM9 can handle more complex presets than the FM3. I haven't had a Fractal unit that disappointed me yet. There is tons I still have to discover but once you start getting to know the interface, you see why so many revere the Fractal Audio modelers.