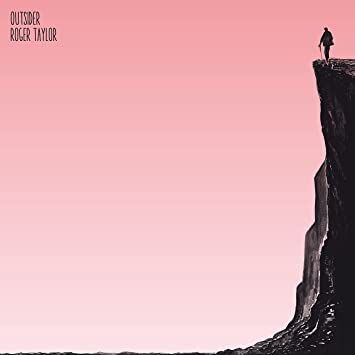 Roger Taylor is, of course, best known as the drummer, and the occasional lead singer, of Queen. I consider him an underrated drummer. He seldom went for complicated fills – though, he's most certainly capable of them as evidenced by all the live footage – but he formed a solid rhythm backbone to Queen, together with bassist John Deacon. 
Having said that, Taylor wasn't just the drummer in Queen; he was also one of the songwriters. One of the reasons Queen always held the 'unique' status is all 4 members of the band contributed to the songwriting. Roger Taylor was no exception. The fact that he could sing, play the drums, and the guitar gave him a lot of tools with which he could explore different avenues.  
In the early part of the '70s, Freddie Mercury and Brian May dominated Queen's songwriting. Roger and John would contribute the occasional track here and there, but the band's sound was more or less determined by Freddie and Brian. That dynamic shifted in the late '70s where songwriting became more evenly distributed. Taylor's career trajectory saw him writing more and more as the years went by. His most popular Queen tracks are probably I'm In Love with My Car, Radio Ga Ga, A Kind of Magic, and These Are the Days of Our Lives, among others. 
As Roger became a more prolific songwriter, he also realized not everything he wrote would make it into a Queen album. This was simply because all members were prolific songwriters with their own material, and it was never easy to choose whose songs were going to make it to whatever record they were working on. Furthermore, each member had a different musical taste that wasn't always received well by the other three. Well, how about a solo career, then? 
Everyone focuses on Freddie's solo album, Mr. Bad Guy, and the recent film blew it into hyperbole to make it look like Freddie was getting away from Queen by wanting to release a solo album. It's a bit ironic that the filmmakers chose to make Freddie the "bad guy" (see what I did there?), given that he wasn't the first member of Queen to ever release a solo album. In fact, by the time Freddie released his, Roger had already had two solo albums out! I will never understand why the film so blatantly ignored all of that, but I digress… 
The point is, Roger Taylor knew he had more to explore as a musician and released Fun in Space in 1981 as his first solo album. Five others followed in the next few decades. Today, 40 years after his first solo album, Roger gives us his sixth, Outsider.
I don't know if I have some recency bias here, but this might be my favorite Roger Taylor solo album. There's a mood on here that I never found in any of his past releases. The whole album has fairly straightforward songs – you won't find Queen material per se – but it just sounds incredibly sincere, beautifully mellow, and somewhat ecstatic. It almost made me think I was listening to a David Bowie album musically. Or, if I had to give an example from Roger's own catalog, I'd say you're looking more at "Drowse" than "Radio Ga Ga" here. Outsider has that easygoing vibe to it that you won't be able to escape from.
The album opens with one of the best songs there, Tides, which brilliantly sets the stage for the entire record. I'm amazed at Taylor's singing; he's still this good even after all these years. This song is atmospheric and, at times, somber. It has some reminders about the finite nature of life. But even in the middle of all of that, Taylor finds a way to have some uplifting messages too. I just love listening to this song. I think it's one of the best he's ever written.
"The only whisper is the wind
The only motion is the wave
The only constant is the change
And all I'm left with is the tide"
The second track, I Know I Know I Know, would have fit nicely on a late '80s Queen album. It's more reflective than the album opener. It talks about someone trying to come to terms with making mistakes and letting a loved one down. Musically, it's got a blues-rock feel to it. And then we have More Kicks, which is a really cool rock 'n' roll tune. The guitar riff reminded me of More Of That Jazz (1978), which isn't entirely surprising given it, too, was a Roger Taylor song. After the first two songs, this one sounds quite different, which adds a nice variety to the album order.
Absolutely Anything is a great slow track that fits with the overall vibe of the album. There's some melodic lead guitar later that complements it well. Then we have Gangsters Are Running This World, which has two different versions on the album. "You can shout but never be heard… gangsters are running this world", Roger says. The song is interesting because while there is some pessimism, as can be seen in the title, he also talks about the things we can do to inject some happiness and appreciate the ups and downs of our lives. When the later part that begins with "I wanna fly…" began, I couldn't help but think how amazing it would have been to have Freddie sing on this song. I don't know… I just felt like it called for his presence. As for the second version, it's called the Purple Version, and it's the rock 'n' roll version of the song. I ended up preferring the purple version, not because it's more rock 'n' roll, but because I found it more gripping. It's got some twists and turns that the original doesn't have. And unless my ears deceived me, I heard some double-bass drums! You don't hear that too often from Mr. Taylor!
Sandwiched between the two Gangsters tracks is a song called We're All Just Trying To Get By, featuring KT Tunstall. This is a song that was available before the album was released. If you look at the lyrics, you can see how the COVID lockdowns inspired them. Another song that quite openly draws inspiration from the pandemic era is Isolation. It talks about how we were all in the same situation, no matter who we were. It was one way we all shared the same story and tried to do our best during what Roger calls, and what we all know to be true, "strange times."
The Clapping Song is the only cover song on the album. To be honest, it's one track I didn't get with. It felt a bit repetitive and fell flat. Luckily, the album ends with Outsider, and we go back to the atmosphere we started with. Well, technically, the album doesn't really end here as there are two more songs. But one of those tracks, Foreign Sand, was initially released on Taylor's 1994 album Happiness?, and the other, Journey's End, was already released in 2017 as a standalone track. Though I should mention that the version of Foreign Sand here is a remix and sounds considerably different from the original. I liked both.
Roger Taylor recently embarked on a small tour supporting his newest solo album. At one show, Brian May even showed up to play A Kind of Magic. This album, Outsider, really delivered something special. As a Queen fan, I'm glad he is still writing songs and looking for new ways to express himself. Creativity knows no age and no boundaries. After all, you don't get to be a member of Queen without some magic.
Sources and Additional Reading:
Uncut Magazine, June 2nd, 2021