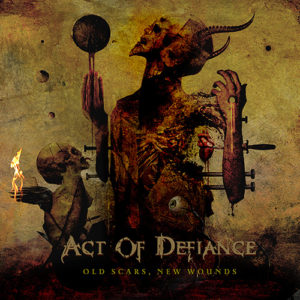 Most of my album reviews so far have been about fairly established bands. So, I wanted to add some variety and talk about one of the relatively newer bands in the scene; Act of Defiance. They have recently released their 2nd studio album called Old Scars, New Wounds and it's beginning to sound like they are finding their unique identity!
Act of Defiance is indeed a new group. The 4 members of the band are all experienced musicians, but as a collective unit, they are new to the scene. Chris Broderick (guitars) and Shawn Drover (drums), both of whom played in Megadeth, form the nucleus, if you will. I briefly wrote about how the band started in an earlier post, but suffice it to say they left Megadeth on the same day and realized they both had similar reasons to leave. They had musical ideas that were never going to come to fruition because Megadeth had a certain sound its fans loved and expected. Their ideas weren't always going to fit. They left in late 2014 and once they decided to form a band together, they quickly recruited two additional members: Matt Bachand from Shadows Fall to play bass, and Henry Derek Bonner from Scar the Martyr to assume vocal duties. They released their debut, Birth and the Burial (2015) shortly after, and toured intensively.
I make it no secret that I am a huge Megadeth fan. When two members left on the same day, of course it was a bit of a shock. It's not a member leaving that is shocking on its own; Megadeth has gone through a lot of changes in its long history. But when two people leave within a few hours of each other, that's a little different. Turns out, Chris was already thinking of leaving and when Shawn announced his departure, he was provided with all the encouragement he needed! As for their ideas not getting much attention in Megadeth, we don't know what was submitted and what level of attention was given. I won't speculate. Having said that, if you are joining Megadeth, you should always accept that Dave will have the final word. He's the one that kept the band alive for more than three decades – that gives him a huge credibility in that department. Chris and Shawn say they wanted to do "heavier" music and that's why they left. Normally Megadeth is plenty heavy – but since they left soon after the release of Super Collider (2013), which was a fairly controversial album, perhaps that made them question the direction they wanted to follow. There were some other reasons people circulated online (some of which I covered in my old post) but I believe the main reason was about musical differences. The way I see it, it all worked out for the best. Chris and Shawn are nice guys but they were not the right fit for Megadeth, which later recruited Kiko Loureiro and Chris Adler to record an excellent album (Dystopia). And Shawn and Chris became free to do as they wished! Sometimes, differences in musical opinion can lead to better things for everyone…
My first impression of this band was mixed. When I listened to their debut, Birth and the Burial (2015), I wasn't particularly impressed. From a technical perspective, everything sounded super intricate and hard to play; but those ingredients don't always make great songs. The album had a great mix and the production was really well done, but the songwriting wasn't what I'd expected from these guys. It sounded too much like a lot of other bands, and I didn't find anything that made them stand out as Act of Defiance.
Fast forward a couple of years, and I think this new album, Old Scars, New Wounds, shows a completely different side of the band. For one, both Chris and Shawn have said in interviews that they had more time they could dedicate to songwriting. The debut had to be released shortly after they'd formed. They didn't have a lot of time, so Shawn and Chris wrote all songs, released the record and started touring right away. This time, however, they took a step back and focused on songwriting. Not only that, but they also received song ideas from Matt and Henry as well. I don't know who wrote what as the album booklet doesn't shed any light on that (all songs are credited to the entire band) but I can clearly hear the difference everybody's contribution made!
Overall, Act of Defiance embraced more melody on this album. That's my main takeaway. Yes, it's still metal – but I've always found it ridiculous to try to make a song "metal" just for the sake of it. I think in this album, they focused on the songs themselves, and not necessarily about making them metal or whatever. The biggest star of the album for me is Henry Derek Bonner because he finally had an opportunity to show what he can do with his vocals. It's not just about screaming here, he does some clean vocals, and even when he goes into harsher singing, there's a lot of variety here. The funny thing is, if you look at some social media comments, you'll notice Henry usually gets the biggest criticism from some people who otherwise enjoy the music. I agreed with them on the first album. But not here. The guy sang really well here and proved he can do a lot more than screaming.
The playing, from a technical perspective, is top notch, as you would expect. Chris Broderick is one of those guitar players who seems to be able to play just about anything. Just go to YouTube and check out videos of him playing classical guitar and some classical pieces – so different than the metal he plays, but he can play just as well! I wasn't super thrilled with the leadwork he did in Megadeth because they weren't the melodic, exotic kind of solos that we've come to expect from that band thanks to players like Chris Poland, Marty Friedman, Al Pitrelli and others. Technical capability is one thing, writing a solo that delivers something unique is another. But like I said, on this album Act of Defiance seems to have listened to some feedback. I've found Broderick's approach a little different this time, and for the better! The riffs are not always focusing on being "brutal", there's something a lot more melodic… And the solos are so much better. There's a lot of variety in the solos themselves – and I've enjoyed most of the leads on the record. Some of them really reminded me of Andy LaRocque from King Diamond who is one of my favorite guitar players.
As far as I'm concerned, the first four songs on here are just stellar. M.I.A. starts us off with a fast-paced moving riff and Henry gives some indication of where he took his vocals this time around. The song starts with somewhat clean vocals but then the chorus delivers a beautifully brutal "What do you want from me?" line that was very much in the vein of Testament's Chuck Billy. Molten Core is a great, straightforward thrash metal song. What I like about it is that it's streamlined, it's not longer than it needs to be! It has some cool tempo changes and an amazing breakdown in the middle that is just really catchy. And the solo here is exactly what I meant when I said Broderick was doing a much better job. It starts slower with a nice melody that you can easily remember, and then goes into a much faster thrash solo (kind of reminded me of Mustaine's style) but it had a lot of melody going into it. Even when I'm not listening to the track, I can sing the solo in my head easily!
I have to start a new paragraph for the next song "Overexposure" because I think it's the best song this band has written so far. As someone who wasn't their biggest fan just a year ago, I'm so impressed with this particular track. I don't know which member wrote this, but whoever did needs to contribute even more to the next album. It's so different for this band and I mean that in a positive way. There's a lot of great riffs here, a lot of melody, and some great hooks all around. Henry delivers a lot of clean vocals and, in my opinion, does it really well. This song doesn't try too hard to be metal – it's still metal but it doesn't feel forced. It flows well. It's a new area for this band. Lots of tempo changes, lots of new riffs, lots of opportunities for Henry to do something different with vocals, and Chris' solo is another example of a melodic solo that also showcases his technical capability. I can't say enough good things about this track. I've already listened to it more than 10 times. I keep coming back to it. I wish they did more songs in this style. It really makes no sense to force yourself to be "brutal" – when you let go and just write whatever comes naturally, this is what you get. If you don't want to listen to the entire album, you should at least listen to this track!
There's more good stuff in there for all metal fans. The Talisman has a cool, almost like later-day Iron Maiden kind of acoustic intro that then morphs into a heavier groovy riff. It's a slower song but it's super heavy and it's got a nice groove. What I like most about it is no matter how heavy the riffs get during the verses, Henry's vocals always keep a nice melody. This is what I'm talking about. I think this band is strongest when they can combine Broderick's lower tuned heavy guitar riffing with some melody and Talisman accomplishes that. It's one of my favorites.
After The Talisman, the album gets slightly less interesting for me but there's still some good moments. Lullaby of Vengeance and Circle of Ashes both have some good riffs, especially Circle has some powerful riffs towards the middle that'll be great for mosh pits when they tour in support of the record.
I haven't been able to gel with the last few songs. They remind me of their first album which I was never a fan of. When they go into this metalcore territory, the lose their unique identity because they start sounding like every other new band that I hear. I'm sure some will prefer these songs to the first few ones as Henry does a lot more screaming and the songs don't really bother with catchy melodies and choruses with a hook. Like I said, there's some good moments in all but for an album that starts so strongly and so interestingly, I was hoping the ending would match the beginning.
All in all, I have to say that Act of Defiance is on the right track. Chris and Shawn risked so much when they left Megadeth and the debut had to come quickly. But this time, they took their time, encouraged every member to contribute, and came up with something that sounds like them, not any other band in the scene. The first 4 songs on the album are just stellar and I hope we get to hear more stuff in that vein in the upcoming albums.